Be Ready to Scale®
Established in 2000, Omicle works with organizations to connect their operations to outcomes that serve brand, marketing, and revenue goals. We are with our clients every step of the way as we audit their current situation, develop an action plan, and ensure it is appropriately executed. 
Omicle is a woman-owned micro-business located in Olympia, Washington. Our clients are primarily B2B businesses and nonprofits.  We have worked with entrepreneurs, funded startups, organizations ranging between $1-25M, as well as departments within international companies.
Our modern approach reveals what is holding a brand back, and how to fix it, and launch them to the next level. Our methodology focuses on the brand's messaging, market positioning, leadership, operations, and digital impact through category design.
We regularly create results like shortened sales cycles, increased revenue per sale, effective communications, branding initiatives worthy of going viral, higher search engine rankings, and brand loyalty.
Our clients have won awards like "Best Place to Work" and "Most Innovative" and have been featured in national magazines as a result of our work together. Our clients describe us as having "unmatched talent", being "profound and impactful", "providing us a clear direction", and "exceeding expectations".
We are looking forward to providing those experiences to you.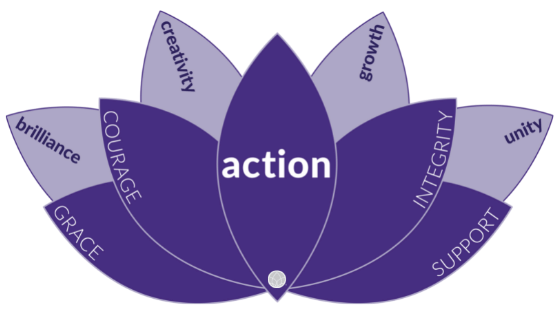 Our Purpose is to empower organizations to take ACTION and drive momentum to accelerate progress and results.
Omicle's Core Values:
COURAGE: The strength and willingness to do something even though it seems difficult in the moment.
INTEGRITY: The choice to be honest and consistent demonstrated through actions, words, decisions, methods, and outcomes.
GRACE: The stature and structure to fuel success and happiness.
SUPPORT: The safe space to admit hard truths and ask difficult questions, to move forward easily.
Omicle's Brand Pillars are:
GROWTH: Drive results forward with passion and consistent implementation.
UNITY: Make connections that inspire collaborative, win/win partnerships.
BRILLIANCE: Create space to liberate wisdom from the soul.
CREATIVITY: Use intuitive listening and data to deliver practical strategies.
"You have a rare talent. You're the visionary for visionaries and yet you're grounded and can actually make it happen."
That is how executives and founders have described Omicle's Founder and Fractional CMO, Melanie Asher, MBA. She works with organizations to connect their operations to outcomes that serve brand, marketing, and revenue goals.
Her approach to a go-to-market is the result of her insider knowledge of the connection between branding, mindset, sales, and operations intersect to impact your bottom-line and influence your market. Ms. Asher has a diverse background ranging from co-developing computer-based training for the Navy (before it was a thing), as a professor at various colleges and universities, being a lead consultant for a variety of fast-growing brands and providing diversity training for King County in Washington State.
Her go-to-market approach reveals what is holding a brand back, how to fix it, and then launches you to the next level. She will work with you on your brand building strategies, mindset, to improve your marketing operations, and improve your effectiveness with digital marketing.
She is an internationally recognized author of three books on culture-driven-brands. "Contractors: Doing it Right, Not Just Getting it Done" was designed, she says, to help put contractors on the right path as they work to maintain market share and financial viability during the global recession. "Hiring a Contractor" was published for residential construction companies to use as a marketing tool to demonstrate confidence in their work and business to prospects. "Purple Construction" is an article series that address challenges faced specifically by women in a male-dominated industry.
Ms. Asher earned her Executive MBA at the University of Washington, Foster School of Business.
As a powerful national speaker, Ms. Asher speaks on topics about brand building, consumer insight, go-to-market strategies, and scaling your business. She is the Founder and of Omicle LLC, a Fractional CMO firm and Brand or Culture, a publishing company. She lives in the Pacific Northwest with her two children, a four-legged cat, and her two-legged son. She loves to hike, experiment in the kitchen, working on her various art projects, and dance.