Be Ready to Scale®
Founded in the year 2000, Omicle is your trusted partner in the transformative journey of connecting operational strategies to the outcomes that drive brand excellence, marketing effectiveness, and revenue expansion. We stand shoulder to shoulder with our clients, guiding them through a meticulous process of auditing their current landscape, crafting a strategic action plan, and ensuring its seamless execution.
As a woman-owned micro-business nestled in the vibrant city of Olympia, Washington, Omicle primarily serves B2B companies and nonprofits. Our clientele spans a diverse spectrum, including entrepreneurs, funded startups, organizations with budgets ranging from $1 million to $25 million, and even specialized departments within multinational corporations.
Our forward-looking approach is designed to unearth the barriers inhibiting your brand's progress, rectify them, and propel your organization to unprecedented heights. At the heart of our methodology lies a comprehensive focus on refining your brand's messaging, enhancing market positioning, nurturing leadership capabilities, optimizing operations, and augmenting digital impact through cutting-edge category design.
Our track record speaks volumes, consistently delivering tangible outcomes such as shortened sales cycles, augmented revenue per sale, effective communication strategies, viral-worthy branding initiatives, elevated search engine rankings, and unwavering brand loyalty.
The proof of our success lies in the accolades achieved by our clients, including prestigious titles like "Inc Magazine's Best Places to Work" and "Most Innovative." National magazines have featured them, highlighting the profound impact of our collaborative efforts. Our clients generously describe us as possessing unmatched talent, delivering profound and impactful results, offering clear strategic direction, and consistently surpassing expectations.
We eagerly anticipate the opportunity to extend these transformative experiences to your organization. Let Omicle be your catalyst for change, propelling your brand toward unparalleled success.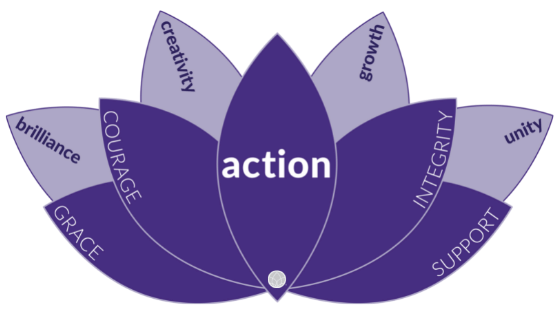 Our Purpose is to empower organizations to take ACTION and drive momentum to accelerate progress and results.
Omicle's Core Values:
COURAGE: The strength and willingness to do something even though it seems difficult in the moment.
INTEGRITY: The choice to be honest and consistent demonstrated through actions, words, decisions, methods, and outcomes.
GRACE: The stature and structure to fuel success and happiness.
SUPPORT: The safe space to admit hard truths and ask difficult questions, to move forward easily.
Omicle's Brand Pillars are:
GROWTH: Drive results forward with passion and consistent implementation.
UNITY: Make connections that inspire collaborative, win/win partnerships.
BRILLIANCE: Create space to liberate wisdom from the soul.
CREATIVITY: Use intuitive listening and data to deliver practical strategies.
"You have a rare talent. You're the visionary for visionaries and yet you're grounded and can actually make it happen."
That is how executives and founders have described Omicle's Founder and Fractional CMO, Melanie Asher, MBA. She is a visionary leader dedicated to helping organizations forge a direct link between their operational strategies and the outcomes that fuel brand excellence, marketing effectiveness, and revenue expansion.
Melanie's unique go-to-market approach is a product of her extensive industry expertise, where she understands the intricate connection between category design branding, mindset, sales, and operations—all of which significantly impact the bottom line and market influence. Her diverse background encompasses co-developing cutting-edge computer-based training for the Navy, sharing knowledge as a professor at esteemed colleges and universities, consulting as a leading expert for fast-growing brands, and delivering impactful diversity training for King County in Washington State.
Melanie's category design methodology is designed to uncover the barriers holding your brand back, implement effective solutions, and catapult your organization to the next level. She collaborates closely with you to refine brand-building strategies, cultivate the right mindset, optimize marketing operations, and enhance your digital marketing effectiveness.
An internationally recognized author, Melanie has penned three insightful books on culture-driven brands. "Contractors: Doing it Right, Not Just Getting it Done" was a response to help contractors navigate the challenges of maintaining market share and financial viability during the global recession. "Hiring a Contractor" serves as a marketing tool for residential construction companies, showcasing their confidence in their work and business to potential clients. Her article series, "Purple Construction," addresses the unique challenges faced by women in a male-dominated industry.
Melanie earned her Executive MBA at the prestigious University of Washington, Foster School of Business.
As a dynamic and influential national speaker, Melanie shares her wisdom on topics ranging from brand building and consumer insight to go-to-market strategies and scaling businesses. She is the Founder of Omicle LLC, a Fractional CMO firm, and Brand or Culture, a forward-thinking publishing company.
Personally, Melanie enjoys the serene landscapes of the Pacific Northwest with her two children, a four-legged feline companion, and her two-legged son. She finds solace in hiking, culinary experimentation, pursuing various art projects, and the joys of dancing. Melanie Asher is not just a leader but a visionary who transforms businesses and lives with her boundless passion and expertise.