My #SeaGiveCamp Experience 2010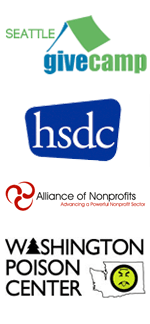 Last weekend I participated in
Seattle's first GiveCamp
. The general premise  is similar to a
Startup Weekend
, but
GiveCamp
is for non-profits. We focused on solving one specific challenge they were facing regarding technology.
I had the opportunity to work with three teams on three completely different challenges:
Hearing Speech and Deafness Center
(HSDC),
Alliance of Nonprofits
, and the
Washington Poison Control Center
.
HSDC
They came into the weekend with two pressing challenges: understanding social media and web contact forms. Sujith Gowda, Glenna Gorlick, and Valentina Ferrari were the other volunteers who worked on this team.
For  contact forms, we first had to decide if they were really needed. If they were,  the best approach for delivery, as well  as how to maintain and keep them up to date needed to be determined. In the end, HSDC decided that web-based contact forms were not needed but being able to provide patients with the appropriate patient documentation forms were.  Due to
HIPAA
regulations, these forms could not be web-based. Instead the forms had to be downloadable so clients could fill them out and print them. Google Docs was the tool selected for this. It allows HSDC's clients to have access to the documents, fill them out (typed) if they choose, then print and bring them in.
As far as social media, HSDC already had a
Facebook page
and
Twitter handle
that they were using. However, it was set up by a former employee. We spent a great deal of time giving the appropriate people administrative access to the accounts and educating about different ways of using the tools.
Alliance of Nonprofits (formerly Executive Alliance)
They came with the goal of creating a phone app for their upcoming
conference
. Koa Metter, John Senner, Flynn Joffray, Benjamin Cordy, Eric Veal, and Sujith Gowda were a part of this team as well.
Having never worked on a project involving a mobile app, I wasn't sure how much help I would be.  I ended up learning just as much as the organization did! Alliance of Nonprofits wanted to showcase the use of technology by making the conference schedule and offer rating abilities in the app. There was also some concern about excluding some of the attendees who were not comfortable installing an app or simply choose not to. So to accommodate, a mobile website was created with the information that would go live just for the event. The mobile website offered all of the capabilities the app did.
Washington Poison Control Center
They came with a goal of redesigning and reorganizing their website and were represented by their developer Trent Scott. Trent came with the Word press framework designed; all he needed were images and to determine the organization of the content.
With a goal having the site navigation be as simple as possible, we ended up structuring it around the 'how' and 'why' a customer would call the center. All of the information was based on an emergency scale, meaning that emergency information was given top priority. By the end of the weekend, an entire workable website had been created with most of the information already included as well as a strategy of how to include the rest of the information and help keep the Poison Control Center top of mind.
Another interesting thing I learned was that Washington's Poison Control Center is the only one in the nation that is a nonprofit. Did you know that?
Here are some
GiveCamp videos
from the weekend and interviews with the organization representatives. Make sure you also check out the photos on the Omicle Fan Page.